Introduction:
The 3D Curve Surface Fiber Laser Marking Machine support 3D data editing, rapid realization of 3D surface marking,relief processing. Dynamic compensation algorithm, ensure wide focus consistency, better effect. it support multi file formats and coding, it support importing of drawing software, vector graphic, text, bar code, etc.
Features:
Dynamic focus system is innovative designed based on laser beam characteristics for more precise control on focal spot. And lenses are all in aspheric design for more concentrated energy.
2. LenMark 3DS software suite provides full 3D processing functionality with patented algorithm, such as 3D engraving on cylindrical surface, spherical surface and special-shaped surface.
3. Some core components are adopt USA CTI Galvanometer servo motor, II-VI optics F-Theta lens, IPG laser generator, Feeltek 3D Dynamic focus system, etc.
4. Three Axis control can free control the focal length, it can be in any shape precision engraving. Not only can cope with all kinds of stepped surfaces, but also to achieve non-discriminatory marking on various shapes. After pre-register the workpiece shape, you only need to change the focal length, it is corresponding to different products, different engraving location and shape change. Without physically moving the workpiece and the machine to complete the switching operation.
5. Easy operation and preview. Just select from standard shapes that can easily convert 3D settings. When you confirm the three-dimensional preview screen, at the same time to adjust the size or location.
Dynamic focusing fiber laser marking machine supports importing of STL model, self-developed model, etc.
Technical Parameters:
| | |
| --- | --- |
| Laser | Fiber Laser(JPT M6 60W) |
| Wavelength | 1064nm |
| Average output powe | 60W |
| Power adjustment range | 10~100% |
| Frequency range | 1-4000 KHz |
| Pulse width ranges | 2-500 ns |
| Working Mode | Pulse |
| Marking Range | F=245mm,Range 200mm×200mm×60mm(customized optional) |
| maximum marking line speed | 5000mm/s |
| Minimum line width | 0.02mm |
| Minimum character height | 0.2mm |
| Marking depth | 0.01~0.2mm(depends on material) |
| Minimum focal spot | 0.02mm |
| Power supply of the whole machine | 1.5KW/AC220V/50Hz |
| Cooling method |  air cooling |
| Operating ambient temperature | 0~55°C |
Sample Display: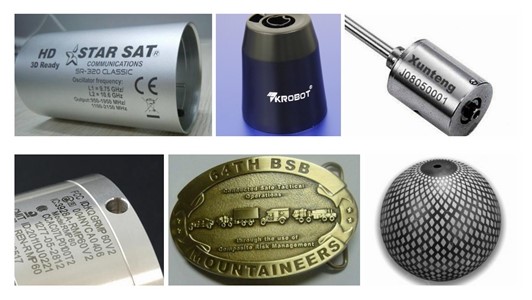 Applicable Industries:
Electronic Components: Resistance, capacitance, chips, printed circuit boards, computer keyboard. Apparatus And Meter: Panel signs, precision equipment, etc. Instrument: Panel signs nameplates, precision equipment, etc. Hardware Tools: Knives, tools, measuring tool, cutting tool, etc. Automobile Parts: Pistons, piston rings, gears, shafts, bearings, clutch, lights, etc. Mechanical Parts : Bearings, gears, standard parts, motors, etc. Daily Necessities : Handicrafts, zipper, key holder, sanitary ware, etc. Jewelry: Rings Jewelry, gold, silver, etc.Food, drinking packing: Plastic packings, metal packings, etc.